Contact us
---
ICGA
c/o Keller and Heckman
Keller and Heckman LLP
1001 G Street NW
Suite 500 West
WASHINGTON D.C. 20001
USA
---
Contact us
Our membership
---
Categories of Membership
A number of different membership options are open to potential ICGA Members. These in- clude Full Membership, Associated Membership, Affiliated Membership and Distributor Membership.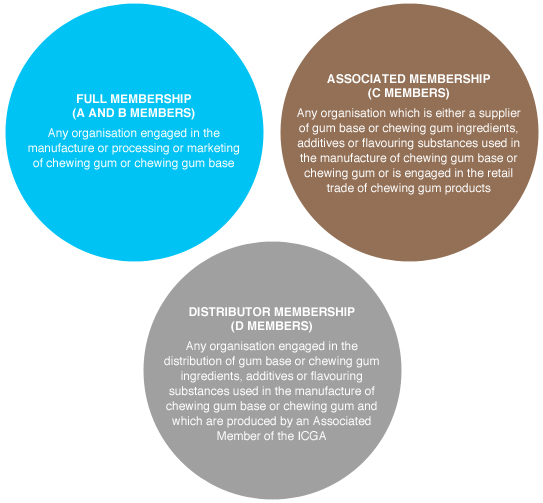 Full Members include:
Arcor Group S.A.I.C.
Cloetta
Continental Confectionary Company (CCC)
Ferrero Spa
FimcoBase
Gumcorp Ltd.
Lotte
Maykim Gum Base Company
Mondelēz International
Perfetti Van Melle
Remik (Remik Kimya San.ve.Tic.A.Ş.)
The Hershey Company
Wrigley
Eligibility
Eligible applicants to become Full Members or Associated Members of the Association can become members following:
approval by the General Assembly;
declaration to adhere to the By-Laws and internal rules;
and payment to the Association of the Dues.
Fees
The funds needed to accomplish the purposes of the Association are raised every year by a decision of the General Assembly in accordance with the rules established by the By-Laws for each category of member.
How to become a member